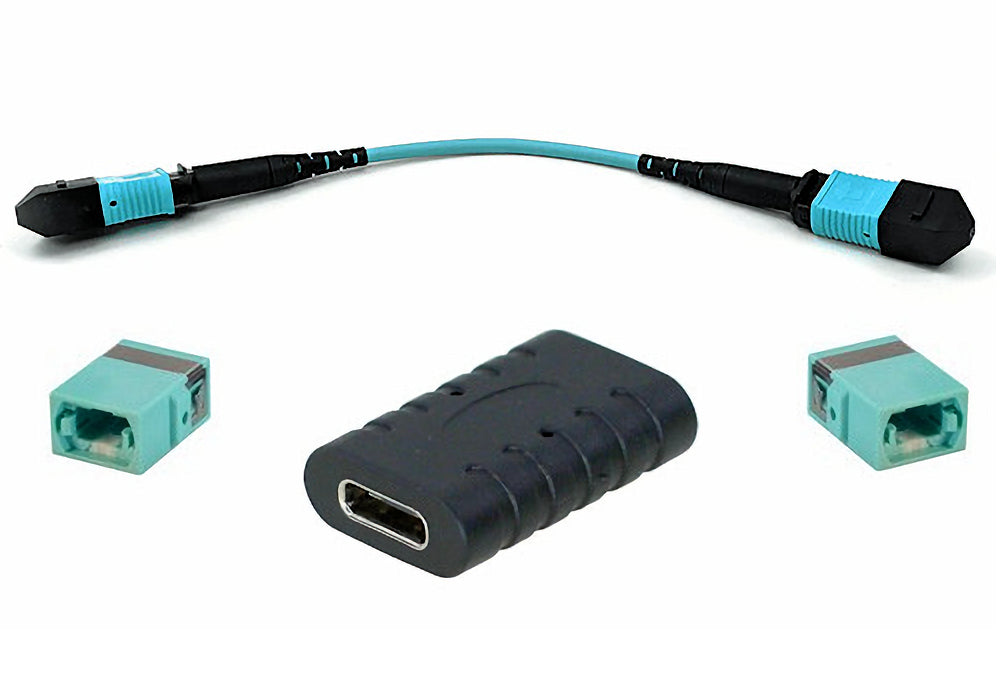 MPO FEMALE JUMPER KIT | 12 Strands MPO Female to MPO Female Type-A Straight non crossing MultiMode fiber optic Jumper Cable KIT 0.5 Feet Length
model: MPO-F-F-USB-05FT


MPO 12 Fibers Female-Female type-A straight connection Jumper KIT for ultra high speed data or ultra multimedia streaming transmissions.
Key Features:
Can be used to interconnect two MALE / MALE MPO multimode cables or devices together with TYPE-A non crossing connection ( 1 to 1 / 12 to 12 ) , including PureFiber® Cables  and all Fibercommand products.
The KIT inlcudes two MPO non-inverting key-up / key-down couplers plus one USBC ultra speed female/female coupler to connect aux controls / data when used with the FiberCommand LASERTAILS® HDMI plugs or related products.
Technical Specifications:

MPO 12 Fibers Patch cord extension

OM3 ultra speed type fibers

MPO FEMALE - FEMALE
TYPE-A Straight fibers connection 1-1 / 12-12

12 strand ( 12 fiber optics)

100 gigabit bandwidth speed per each fiber strand

1.2 Terabit full bandwidth speed

Kevlar Anti-Stretch Protection

In Wall Fire Rated LSZH + OFNR Top Quality

Residential or Commercial Pro Use

ULTRAFLEX® Technology (Capable of 90 Degrees Turns)

Includes:
- TWO MPO non-inverting Key-Up / Key-Down Couplers
- ONE USBC ultra speed Female / Female Coupler for aux signals ( where needed)